Description
TABASCO® Chipotle Pepper Sauce is a thick-bodied sauce made from red jalapeños, slowly smoked over a pecan wood fire. 3/5 heat rating. The smooth, smoky flavour of TABASCO® brand Chipotle Pepper Sauce is a natural for BBQs. Use a generous amount to marinate and grill steak, pork, chicken and vegetables. In fact, adding a few drops to a dish is a great way to get that instant grilled flavour, without even firing up the grill! Made from select smoked red jalapeño peppers, our Chipotle Sauce also gives a delicious smoky sizzle to sides like mac & cheese, potato salad and baked beans.
A smokey, flavourful hot sauce. Pairs well with any BBQ. This rich, full-bodied hot sauce is the perfect balance of smoke and heat. Made from vine-ripened red jalapeño peppers that are slow-smoked to perfection over a smouldering pecan wood fire. This robust pepper sauce is just right for marinating or grilling meats and adds an unexpected smoky flavour to cocktails, dips and sweets.
Each case contains 12 x 60mL bottles
Slow-roasted jalapeno peppers
Smoked over an open fire
Versatile for all cuisines
Add to any savoury dish
Enhances. Accents. Enlivens
3/5 heat rating
A GLOBAL PEPPER SAUCE PHENOMENON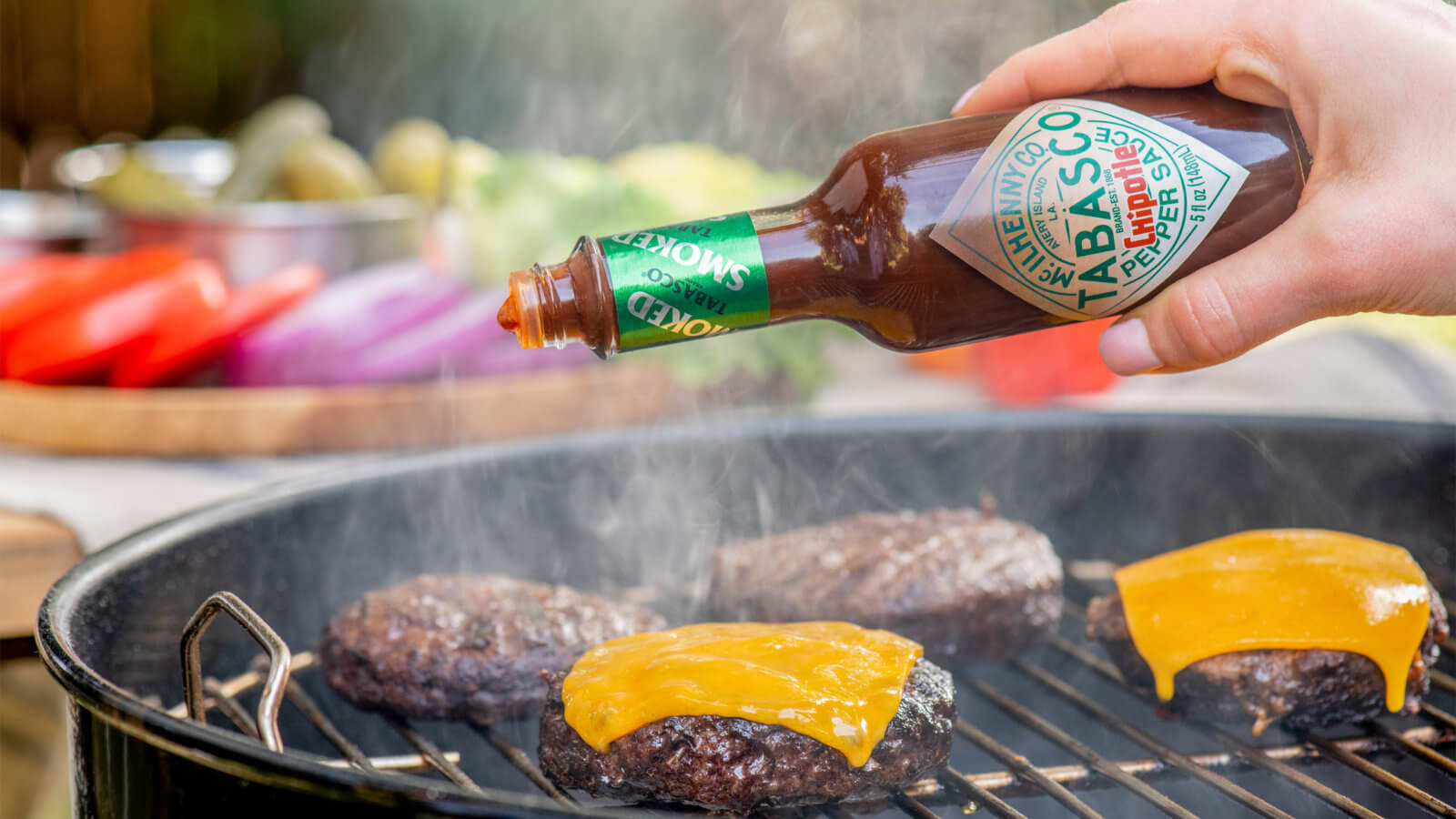 Ingredients:
1kg lean ground beef
2 cloves garlic, minced
1 teaspoon salt
6 hamburger buns
Lettuce
Tomato slices

Method:
1. Combine ground beef 1/4 cup TABASCO Chipotle Sauce, garlic, and salt in a large bowl and mix well.
2. Shape into 6 patties.
3. Grill or broil burgers to desired doneness.
Place on bun bottoms and drizzle burgers with additional TABASCO Chipotle Sauce.
4. Add lettuce and tomato and top with remaining bun halves.